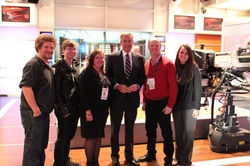 ---
Our TIDE4Christ Campus Ministry - In the Spotlight!

Last weekend, April 20-21, 2013, our Tide4Christ Parents Weekend was held. We consider this event to be a great success. The response was very enthusiastic from the invitations sent out and we were pleased to welcome our Students and their Parents to the Campus. This event also gave the Central congregation the opportunity to become more acquainted with our Adopt-A-Student Program. The list of events included: 1) 10:00 AM Brunch, 2) the A Day Game, and 3) Dinner with our students and their parents at 6:00 PM. It was wonderful to meet the parents and to learn of our students' accomplishments. We are blessed that your son(s) and daughter(s) have chosen to Worship God with us at Central. The following Pictures were taken at the 10:00 AM Brunch:

Please continue to pray for our students & our mission to spread the Gospel message to the Campus of the University of Alabama.
Also In the News: Wedding Bells Ring at the Alabama Fire College - May 18, 2013
The Marriage Ceremony of Victoria Rachelle Martin and Justin Gregory Perrin - 2:00 PM
---



Also In The News: Wedding Bells Sound At University church of Christ - June 1, 2013
The Marriage Ceremony Uniting Lisa Nicole Nellessen and Johnothan Nicholas Selman - 2:00 PM


***************************************************************************************************************************
Northport and Central churches of Christ presented Vacation Bible School 2013.
Click on the link to the right of the picture below to get all the details.


---
-----------------------------------------------------------------------------------------------------------------------------------------------------
News Flash! Read all about it-----> From the 'Crimson White Campus Newspaper - 06-26-13
---
News Update: Keith Holcombe, signs to play football for the University of the Alabama Crimson Tide. Keith follows in the footsteps of his father, Danny Holcombe, who played on a team that was coached by the late Paul "Bear" Bryant.
Special News Update - (07/14/13) A very Special Dedication Service was held this afternoon in our new Building at 304 Hargrove Road. Many, many friends(old and new) were present to help us celebrate this event. Frank Hare, Vice President and Frank Wampol, Safety Director of B. L. Harbert International as well as many dignitaries, and a host of other volunteers were here to help us celebrate. The pictures below show some of the highlights of this event:

Our joyous dedication was made very special by the presence of many of our former members, including former leaders of the our congregation. Below is Bill Wheeler (and wife Janet) - who served as a former Elder at the Central church of Christ, both at 6th Street downtown and at 304 Hargrove Road .........(Don)

From Chandra Clarks Facebook page: "........Bill Wheeler is the first Minister I remember at the Whitson
Place church of Christ as a child. " I'm so glad he was able to attend with his son William Donald Wheeler and that he got to visit with my mom." .................. at Central church of Christ.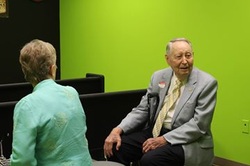 ---
Culmination of the Dedication Ceremony - the cutting of the ribbon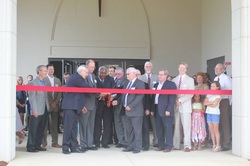 ---
-------------------------------------------------------------------------------------------------------------------------------------------------------
News Update: Victory Village Opens Today - August 4, 2013
__________________________________________________________________________________________
------------------------------------------------------------------------------------------------------------------------------------------------------


News Update: August 18, 2013 Our College Students Return To Campus. Our new Tide4Christ Campus Facility opens its door for our students.
News Update: August 21, 2013 Wednesday Evening Bible Study at the Tide4Christ Campus Student Center.
News Update - October 5, 2013 University of Alabama Homecoming
We would like to extend a hardy Welcome to our students (past and present) and their parents on this Homecoming Weekend at the University of Alabama. You are our special guests and we invite you to stay and visit as long as you can. Parents, thanks for sharing your students with us while they are here at the University of Alabama. We want to be your 'Favorite Hello and your Hardest Goodbye.'


News Update - March 18, 2014 Indian Creek Youth Camp Presentation
Central church of Christ - Mall


News Update: April 2014. Our LTC kids just completed their competition at the annual LTC event in Mobile. Chris Clark will conduct a ceremony honoring each particpant in the next few weeks.


News Update: April 2014. We are happy to announce that Scott McCown has accepted the work as our Pulpit Minister. Scott (wife Amy, and son Andrew) and his family will begin the transition to relocate to Tuscaloosa to begin work with the Central Family starting May 25, 2014. Scott, his wife Amy, and son Son Andrew come from the Parrish church of Christ. They live in Oakman where Amy is a school teacher and Andrew is a Junior at Oakman Highs School. We are excited about their decision to come and work with us. More to come.......................
News Update: April 20, 2014. In celebration of their Educational Milestone, the Central Family recognized our graduating High School Seniors on Sunday Evening. A Graduation Celebration Banquet was held immediately after our evening service with Caleb Cochran, our Youth & Family Minister presented gifts to each graduate. A special moment was observed when several of the parents made comments citing the love they had for their graduate noting their qualities as young adults. These outstanding Seniors are: Emily Doran, Keith Holcombe, Lee Jamieson, Jr., Julie O'Quinn, Montana Taylor and Courtney Wilson. The Central Family extends their highest Congratuations!!
News Update: May 5, 2014. Lainey Hatfield gave one of her finest Violin performances as the winner of the Concerto Competition. She performed as the featured violinist during tonight's Tuscaloosa Youth Orchesta's spring concert at the Moody Music Building on the University of Alabama's campus.


Congratulations Lainey! We are Proud of You!


The following pictures tell the story:


The University of Alabama - College of Arts & Sciences - School of Music
Tuscaloosa Youth Orchestra Spring Concert
Monday, May 5, 2014
Concert Hall - 7:00 p.m.


Dr. Blake Richardson, Conductor
Erin Cooper, Assistant Conductor


News Update: Welcome Scott, Amy and Andrew McCown to the Central Family May 25, 2014.

News Update: Good News: Our Panama Mission Team has returned safely from Panama. We look forward to their report, Sunday Evening - June 22, 2014. We are so grateful to them for their dedication to the Lord's work in Panama. Except for close time schedules on their returning flight, the week went very well. Thanks to Lee for being a super negotiator for the team to get everyone back safely and on time! WELCOME BACK TEAM PANAMA!!

News Update: 06/30/14 Lee Jr. is home and improving. It will take time to see the results.

News Update: The Angels are rejoicing as Samantha Hatfield responded to the Gospel
invitation and was Baptized into Christ by her father, Rick Hatfield. The Angels are also rejoicing that Courtney Northam was recently Baptized into Christ! Congratulations to Samatha and Courtney. Please welcome our newest Sisters-in-Christ when you see them.

News Update: The third and final Meet the Ministers food and fellowship will be held on August 16, 2014 at the church building at 6:00 PM. If you have not attended one of the previous fellowships this a perfect opportunity to come and get to know them better.