Welcome to our Website
​
Find your place in God's Family at Central Church of Christ!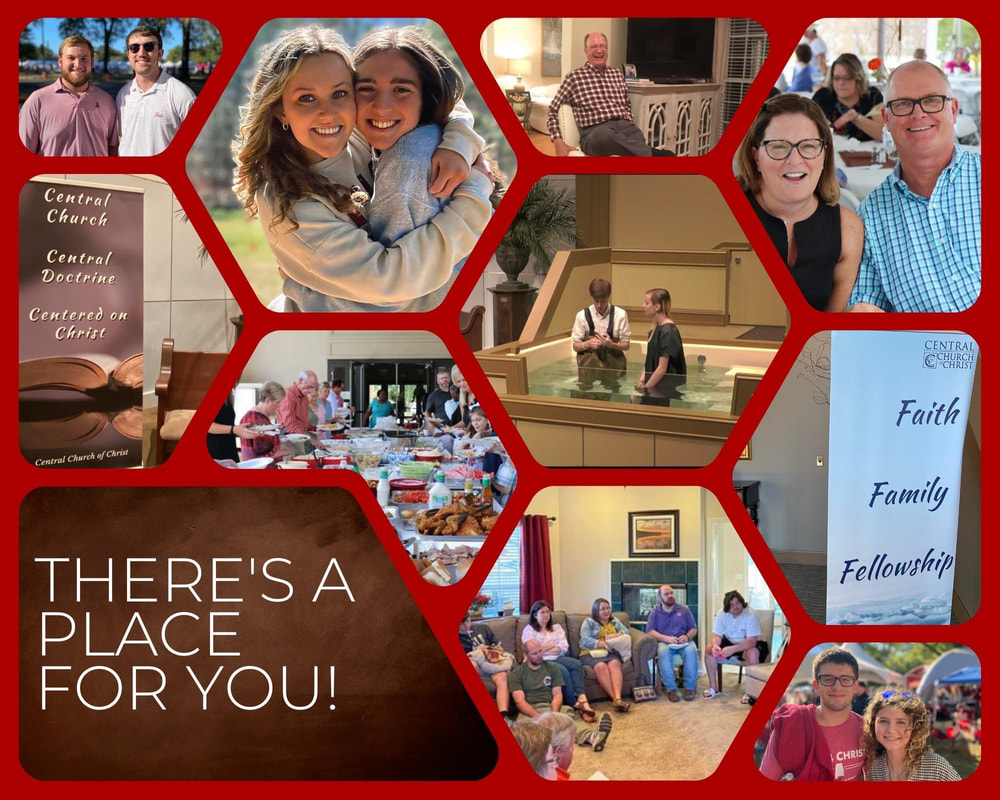 "We are the Central Family;" "We want to be your Home Away From Home;" "We want to be your Favorite Hello & Your Hardest Goodbye" !


Central Family Updates:
Congratulations!
Friday Evening Tabitha Jacks was Baptized into Christ by her Father - Patrick.
We rejoice with Parents - Patrick and Kristy; Sister - Natalie; and Grandparents - Don and Babbs Bridges!
---
Congratulations!
After studying with his Mother, Leah, Carter Kelly was Baptized into Christ Jesus for the remission of his sins on Thursday evening at the building. Family and friends were present and rejoice with Him on His decision.
Schedule of Worship Services & Bible Classes at the Building:
Please note that if you have the blessing of good health, then we encourage you to return to the church building to join us as we assemble together to Worship God.
Masks: Wearing a mask is optional at all our services & Bible Classes.​ Please use your own precautions, according to your own individual health situation.

​​8:00 am Early Worship Service: Don Wheeler & Everette Geddie are the speakers at this Worship Service.
​ 1 - We offer this time slot to meet the needs of those with changing work schedules or travel schedule needs that would prevent attendance at the 10:00 am Worship Service.
2 - If you or any of your family members are medically fragile, then this time slot provides a much greater social distancing seating arrangement.
​10:00 am Worship Service*: Scott McCown, our Pulpit Minister, will be the speaker at this Worship Service.
​* Note: This Worship Service will also be live-streamed on YouTube and Facebook. The Facebook recording is available to watch at a later time.
​
​9:00 am Bible Classes: We offer Bible Classes for all ages (See the listing of Bible Classes & Teachers under the Home Tab.)

Sunday Evening Devotional Thoughts on the Web:
2:00 pm On-line: Scott McCown will offer Devotional thoughts for the Day.
​
---
​​General Information:
Finances:
​The work of the Lord's church must continue so please don't forget the financial obligations of Central.
1) You can donate online. Click on the Donate Button (below) to make your contribution.
2) You can mail your contribution to Central Church of Christ at 304 Hargrove Rd, Tuscaloosa, AL 35401.
To save on postage, you can put several checks in one envelope and Barbara Martin will only deposit them at the appropriate time, according to the date as it appears on the check.
Please remember to send or bring in a contribution for CUAF which is scheduled for every 5th Sunday Month. (Make the check payable to CUAF.)
3) You can drop them off at the building during normal office hours. Call Barbara at the church office and when you get to the building and she will come out to your car.
​Thanks for all you do,
​The Central Elders
​
​
---
​Our Office Staff will be available at the building during office hours (Monday-Friday 8:00am - 3:00pm.)
​For those continuing to watch at home, take the Lord's Supper at your home. Christina will have communion packets available at the building. You may call or email Christina and she will arrange for you to pick up the supplies outside the building.
If you are confined to home and not able to attend services at the building, remember, that the church is the people. While the Lord's Day assembly is a key role in the church, when unprecedented events keep your local church from meeting, you can still worship God by yourself or with your family. If you are a Christian, you are a priest with access to God. Read the Word, pray, sing and take the Lord's Supper.


​A Reminder If You Need Help or Want To Help:
We encourage you to continue to check on each other and help each other with any needs.
We thank you for your understanding and cooperation.
We will continually update you as we receive new information.
May God bless us as we worship Him wherever we may be.

Helping others:
The form below is for any of our members, or anyone you know, who needs help with:
●picking up food
●picking up prescriptions
●creating meals
●transportation
●etc.

Click on the link below
https://forms.gle/62cDQsBNYiqW8gm76
​
​For privacy, your responses will only be seen by a select few who are coordinating the effort.
Delivery can be made without any contact to your front door.

A special place in our hearts:
This little tree above (planted before our new building was completed) is in memory of Dustin Fields - one of the children of the Central Family. Consequently, it was only thing left standing on our church property, after the devastating tornado, of April 2011.
Status Update: Recently, a strong storm wind storm blew it down and damaged it to the point that it could not be saved. Although it is now gone, we still remember the important role it played in showing God's Blessing's of Hope to Central at a very difficult time.


Directions to our Building:
​
​If you are new to our area, please use the map below to find us.
---

Hello! We are so glad that you have chosen to visit our Website. If you have any comments or suggestions or would just like to talk to us please send a message to don-ccc@att.net.

For the Central Family,

Don - Site Administrator